U.S. President Joe Biden and Prime Minister Justin Trudeau arrive for a news conference in Ottawa on March 24, 2023. (AP Photo/Andrew Harnik)
Laura Madokoro, Carleton University
When Canadian Prime Minister Justin Trudeau and United States President Joe Biden announced unofficial border crossings were no longer exempt from the Safe Third Country Agreement — meaning migrants could be turned away — news reports documented the surprise and dismay of those who arrived at Roxham Road in Québec, a few hours past the deadline of midnight, March 25, 2023.
Migrants who crossed just hours before the new measures took effect, on the other hand, expressed relief to the media that they made it into Canada in time.
The media attention on these most recent attempts to cross the Canada-U.S. border helps the public understand what otherwise too often takes place on isolated rural roads and with little accountability. They shed some light on what is happening, but only some.
The issues at play at Roxham Road, on the Québec-New York border, are larger than any one single border crossing, official or otherwise. They are intimately connected to global political instability, economic equities, exploitation and the enduring question of a state's capacity to be humanitarian when it is also in the business of managing migration.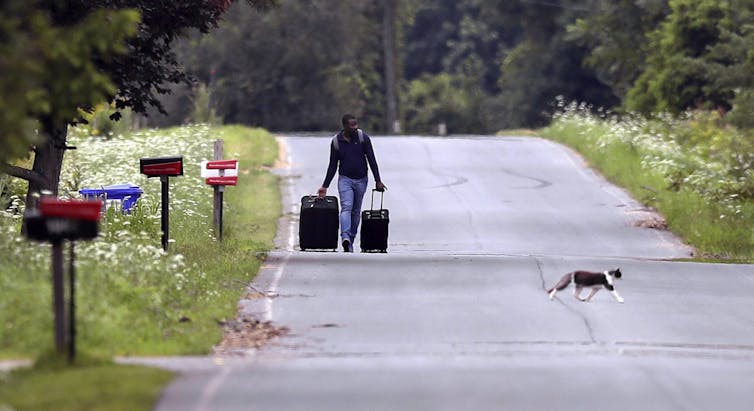 A Haitian man tows his luggage down Roxham Road in Champlain, N.Y., while heading to an unofficial border station across from Saint-Bernard-de-Lacolle, Que., in August 2017. (AP Photo/Charles Krupa)
Shining a spotlight
The need to see beyond the immediate crossing point is urgent and necessary, because the modified Safe Third Country Agreement is not the end of the story.
Raising public awareness about the issues surrounding migration has been a critical part of civil society activism on refugee issues in recent years.
It was a cornerstone of the 1980s sanctuary movement, when there were animated debates about the nature of responsibilities to refugees in the United States and, to some extent, in Canada.
In March 1982, the Southside Presbyterian Church in Tucson, Ariz., alongside five churches from the San Francisco Bay area, declared themselves public sanctuaries for migrants from Central America who were fleeing civil wars and political persecution.
The Ronald Reagan administration, which funded guerrilla movements in Nicaragua, Guatemala and El Salvador, had made it difficult for people to file asylum claims — and the few that were heard were disproportionately refused.
For instance, only three per cent of claims from El Salvador were accepted, despite testimony from refugees about brutal persecution that was echoed by human rights observers. The speed of the refusals and the deportations made it difficult for people to learn about the circumstances that had caused people to flee.
As civil society activists began to educate themselves about what was going on in Central America, they recognized that U.S. foreign policy was contributing to the conflicts that were fuelling migration.
They connected the dots and argued that the U.S. government's failure to address asylum claims from Central Americans in a fair and just manner was part of a larger strategy of refusing responsibility for the tumult in the region.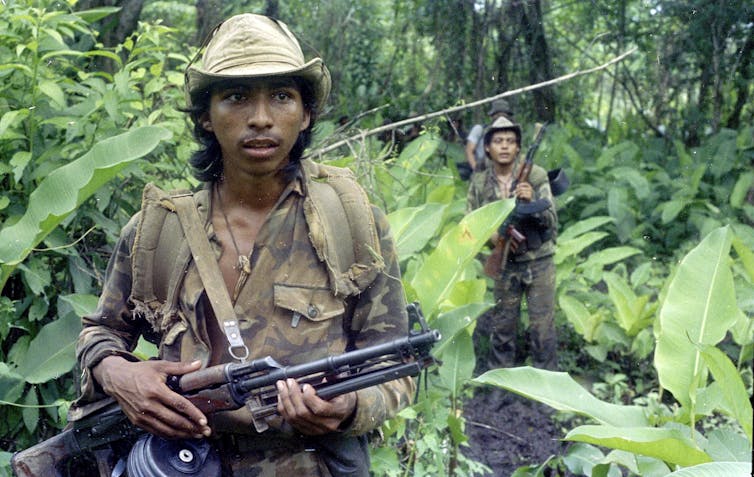 In this 1986 photo, a Sandinista soldier walks warily through the jungle on a patrol to hunt U.S.-backed contra rebels in northern Nicaragua. (AP Photo/Andrew Selsky)
'Civil initiative'
To address the situation, civil society organizations began to collaborate on multiple levels in what Jim Corbett, a Quaker and Arizona rancher who was deeply involved in the movement, described as "civil initiative."
This involved everything from helping people across the Mexico–U.S. border to offering legal advice and support, facilitating or providing translation services, and advocating publicly on behalf of refugees.
Alongside public declarations of sanctuary, Corbett talked about "public witness" as a "key dimension of efforts to end the persecution" (detailed in Miriam Davidson's Convictions of the Heart: Jim Corbett and the Sanctuary Movement).
Crucially, some refugees in sanctuary chose or were invited to speak about their experiences. They often described their own circumstances. However, they also talked about the conditions in their homelands, and raised awareness about violent conflicts that might not have been as well understood otherwise.
Authorities recognized how powerful — and damning — this information was.
During the 1985 sanctuary trial — in which 11 members of the sanctuary movement were tried for various felonies including smuggling and transportation — the ruling judge specifically denied the introduction of any foreign policy evidence or testimony about events in people's homelands as part of the proceedings. Six of the activists, including Corbett, were convicted, though all received probation.
The judge's actions illustrates the importance of the larger story when it comes to migration issues.
What fuels migration?
The current discussions of migration across the Canada–U.S. border, in both directions, are focused only on the movement of migrants themselves, with little sense or interest in the circumstances that are causing people to move.
In other words, we are only seeing migrants, not the bigger picture.
Take for example, the situation in Venezuela, described by the United Nations High Commissioner for Refugees as one of the largest displacement crises in the world.
There are currently an estimated seven million Venezuelan migrants and refugees abroad as a result of the turbulent economic and political conditions in the country.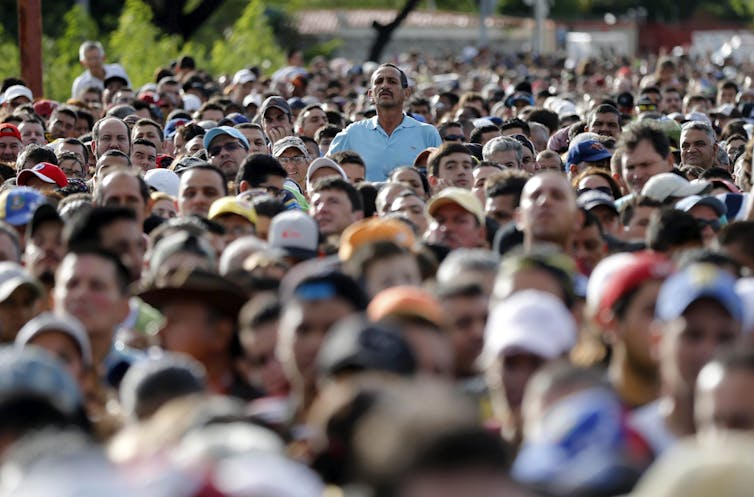 In this July 2016 photo, a man stands over a crowd of Venezuelans waiting to cross the border into Colombia in San Antonio del Tachira, Venezuela. (AP Photo/Ariana Cubillos, File)
The United States government has suspended direct flights to Venezuela, as has the Canadian government.
There is also a Canadian travel advisory telling people to "avoid all travel to Venezuela due to the significant level of violent crime, the unstable political and economic situations and the decline in basic living conditions, including shortages of medication, gasoline and water."
Let's not impose further burdens
Having a sense of the larger picture isn't about the merits of individual claims, or how people decide to seek better lives, or what borders they crossed.
It's about having a better understanding of how and why people all over the world are moving.
As the public education component of the 1980s sanctuary movement shows, this is work all of us can do. As people lose the capacity to be heard, the burden falls on all of us to understand circumstances abroad rather than to make assumptions about who people are, and what they may or may not have endured, based solely on how they are moving.
If we're going to have robust and substantive conversations about migration policy and humanitarian responsibilities, then we need to zoom out — beyond the immediacy of the border — to better understand the interconnected circumstances that lead people to make all kinds of decisions about their lives, including the decision to move.
After all, in announcing the amended Safe Third Country agreement, both Trudeau and Biden were careful not to speculate about how people will migrate now.
That's because they haven't examined the bigger picture or addressed any root causes. So the question remains: What happens next?

Laura Madokoro, Associate Professor, Department of History, Carleton University
This article is republished from The Conversation under a Creative Commons license. Read the original article.
"Voices of the RSC" is a series of written interventions from Members and Officials of the Royal Society of Canada. The articles provide timely looks at matters of importance to Canadians, expressed by the emerging generation of Canada's academic leadership. Opinions presented are those of the author(s), and do not necessarily reflect the views of the Royal Society of Canada.
Thumbnail: