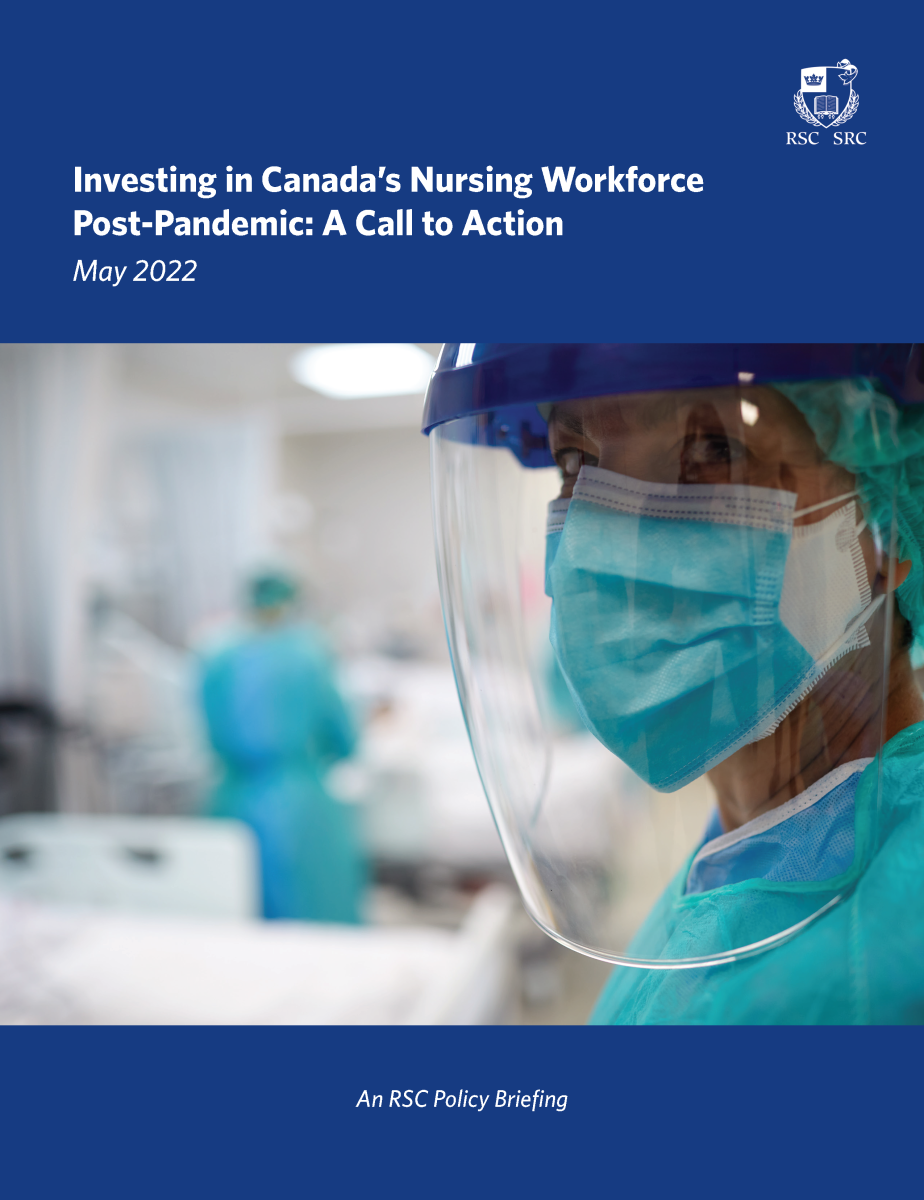 Established by the President of the Royal Society of Canada in April 2020, the RSC Task Force on COVID-19 was mandated to provide evidence-informed perspectives on major societal challenges in response to and recovery from COVID-19. 
The Task Force established a series of Working Groups to rapidly develop Policy Briefings, with the objective of supporting policy makers with evidence to inform their decisions. 
Overview of "Investing in Canada's Nursing Workforce Post-Pandemic: A Call to Action"
This report examines the impact of COVID-19 on the nursing workforce, identifies factors influencing nurse turnover and shortages prior to and during COVID-19 especially with a lens on factors that are long-standing issues. To accomplish this, we have integrated various data, both primary and secondary sources, to explore the factors affecting nursing retention and turnover. We reviewed the following questions: (1) Why do nurses leave the profession? and (2) What approaches have been recommended or implemented to support and retain the nursing workforce? Our policy brief considers the profession of nursing to include Registered Nurses (RNs), Nurse Practitioners (NPs), Licensed Practical Nurses (LPNs)/ Registered Practical Nurses, Registered Psychiatric Nurses, and we have sought input from all nursing practice areas. 
Policy Report Leads
Chair: Dr. Gail Tomblin Murphy, VP Research, Innovation & Discovery and Chief Nurse Executive, Nova Scotia Health
Co-Chair: Dr. Tara Sampalli, Senior Scientific Director, Research, Innovation & Discovery, Nova Scotia Health
Dr. Lisa Bourque Bearskin, Associate Professor, and Researcher, Thompson Rivers University, School of Nursing.
Nancy Cashen, Interim Director, Nursing and Professional Practice, IWK Health
Dr. Greta Cummings, Dean, College of Health Sciences, and Professor, Faculty of Nursing, University of Alberta
Dr. Annette Elliott Rose, VP Clinical Care & Chief Nurse Executive, IWK Health
Dr. Josephine Etowa, Professor at the University of Ottawa's Faculty of Health Sciences, School of Nursing
Dr. Doris Grinspun, Chief Executive Officer of the Registered Nurses' Association of Ontario
Dr. Esyllt W. Jones, Professor of History, University of Manitoba
Dr. Mélanie Lavoie-Tremblay, Associate Professor and Vice-Dean research, innovation and entrepreneuriat, Faculty of Nursing, University of Montréal.
Dr. Kathleen MacMillan, Adjunct (retired) Dalhousie University, School of Nursing; Adjunct, University of Prince Edward Island, Faculty of Nursing.
Cindy MacQuarrie, Senior Director, Interprofessional Practice & Learning, Nova Scotia Health
Dr. Ruth Martin-Misener, Professor and the Director of the School of Nursing and Assistant Dean, Research, at the Faculty of Health, Dalhousie University
Dr. Judith Oulton, Former Executive Director, Canadian Nurses Association
Dr. Rosemary Ricciardelli, Professor, Sociology, Memorial University of Newfoundland.
Linda Silas, President of Canadian Federation of Nurses Unions
Dr. Sally Thorne, Professor, School of Nursing and Associate Dean, Faculty of Applied Science, University of British Columbia.
Michael Villeneuve, Chief Executive Officer, Canadian Nurses Association
For further information or for media requests, contact Erika Kujawski at ekujawski@rsc-src.ca. 
This report has also been published in the 
FACETS collection
 of RSC Policy Briefings. The report is available 
here
. 
Social Media Image: