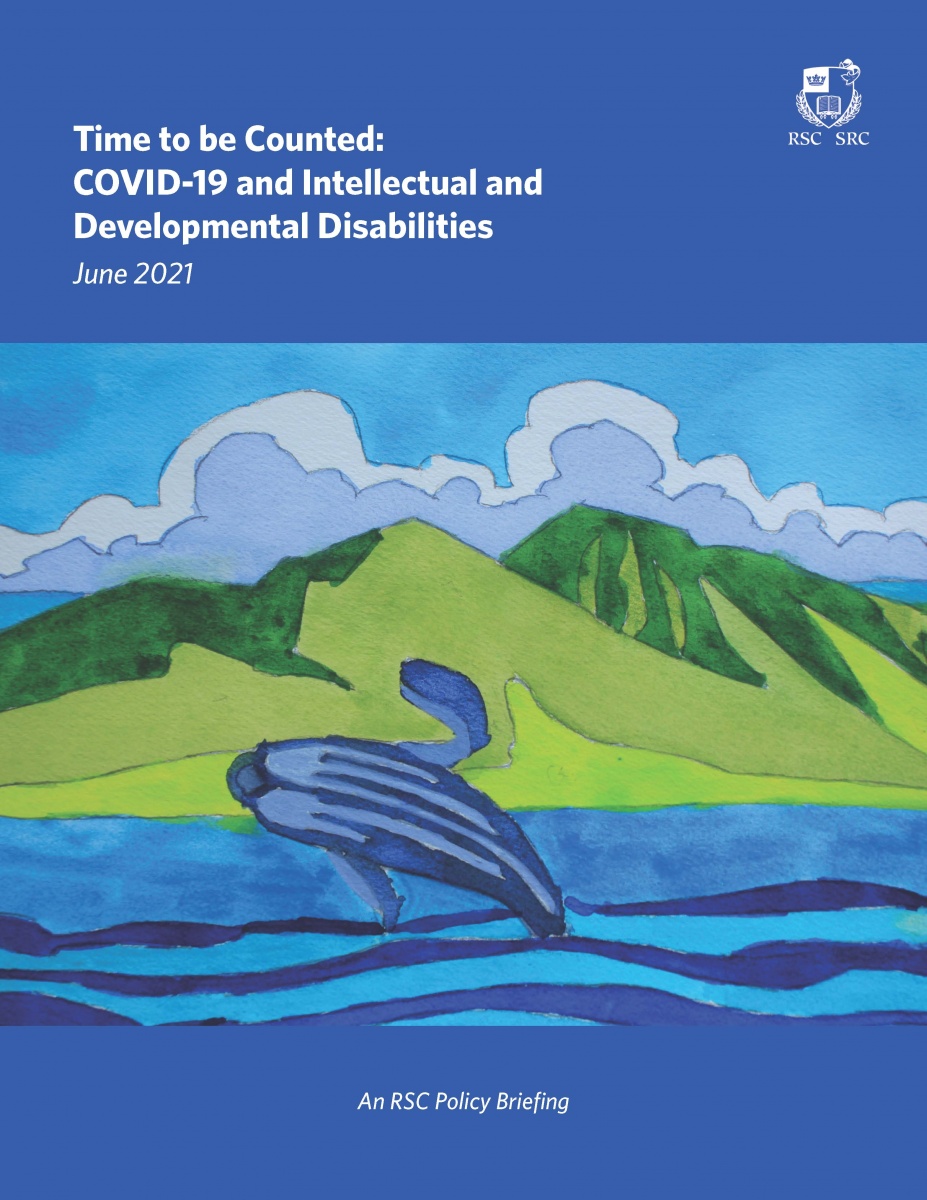 Established by the President of the Royal Society of Canada in April 2020, the RSC Task Force on COVID-19 was mandated to provide evidence-informed perspectives on major societal challenges in response to and recovery from COVID-19. 
The Task Force established a series of Working Groups to rapidly develop Policy Briefings, with the objective of supporting policy makers with evidence to inform their decisions. 
Full Report
Executive Summary
Accessible Version
Overview of Time to be Counted: COVID-19 and Intellectual and Developmental Disabilities
The COVID-19 pandemic has impacted the lives and well-being of all people globally, with consequences being observed across all domains from physical and mental health to education and employment outcomes, to access to community supports and services. However, the disproportionate impact of the COVID-19 pandemic and its associated public health restrictions on individuals with intellectual and developmental disabilities (IDD) has largely been overlooked. Not only do people with IDD have a greater risk of severe complications and death from the virus as shown in large scale studies, but they also face significant short- and long-term consequences of COVID-related public health measures on their mental health and well-being.
Authors of the Report
Jennifer Baumbusch, Associate Professor, School of Nursing, University of British Columbia; Canadian Institute of Health Research Chair in Sex & Gender Science 
Chantal Camden, Associate Professor, School of Rehabilitation, Université de Sherbrooke; Researcher at CRCHUS and l'IUPLSSS 
Barbara Fallon, Professor, Factor-Inwentash Faculty of Social Work, Canada Research Chair in Child Welfare, University of Toronto
Yona Lunsky, Director, Azrieli Adult Neurodevelopmental Centre. Centre for Addiction and Mental Health; Professor, Psychiatry, University of Toronto 
Annette Majnemer (Co-Chair), Professor, School of Physical & Occupational Therapy, Vice-Dean, Education, Faculty of Medicine and Health Sciences, McGill University; Senior Scientist, Research Institute of the McGill University Health Centre 
Patrick McGrath, FRSC (Co-Chair), Emeritus Professor, Psychiatry, Dalhousie University; Scientist IWK Health Centre 
Steven P. Miller, Head, Neurology, The Hospital for Sick Children; Professor, Paediatrics, University of Toronto 
Genevieve Sansone, Research Associate, Fraser Mustard Policy Bench, University of Toronto
Tim Stainton, Professor, School of Social Work; Director, Canadian Institute for Inclusion and Citizenship, University of British Columbia 
John Sumarah, Emeritus Professor, Counselling Psychology, Acadia University 
Donna Thomson, Parent, Author, Advocate 
Jennifer Zwicker, Director of Health Policy, School of Public Policy, Assistant Professor, Canada Research Chair, Kinesiology, University of Calgary.
For further information or for media requests, contact Erika Kujawski at ekujawski@rsc-src.ca. 
This report has also been published in the FACETS collection of RSC Policy Briefings. The report is available here. 
Social Media Image: