​​​​​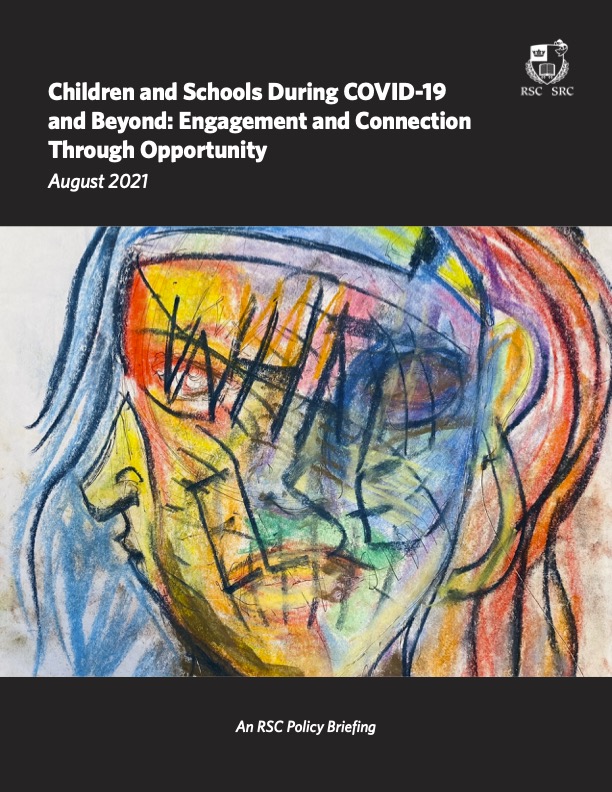 Established by the President of the Royal Society of Canada in April 2020, the RSC Task Force on COVID-19 was mandated to provide evidence-informed perspectives on major societal challenges in response to and recovery from COVID-19. 
The Task Force established a series of Working Groups to rapidly develop Policy Briefings, with the objective of supporting policy makers with evidence to inform their decisions. 
Overview of Children and Schools During COVID-19 and Beyond: Engagement and Connection Through Opportunity
Over the past eighteen months, the pandemic has not only claimed the lives of millions world-wide, it has also upended nearly every public and private institution around the globe. Healthcare and long-term care were hit especially hard, but so were school systems, with over 90% percent of the world's 1.6 billion students (along with their caregivers and educators) impacted by school closures. In Canada, all provincial and territorial schools were closed for extended periods at some point during the pandemic, the longest being in Ontario where children and youth were out for more than half of the 2020-2021 academic year.
 
Authors of the Report
Tracy Vaillancourt (Chair), Canada Research Chair and Professor, Counselling Psychology, Faculty of Education, University of Ottawa
Miriam Beauchamp, Canada Research Chair and Professor, Department of Psychology, University of Montreal and Ste-Justine Hospital Research Centre
Curtis Brown, Superintendent, South Slave Divisional Education Council; President, Canadian Association of School System Administrators
Pino Buffone, Director of Education, Renfrew County District School Board
Jeannette Comeau, Assistant Professor, Department of Pediatrics, Faculty of Medicine, Dalhousie University; Pediatric Infectious Diseases Physician, Medical Director, Infection Prevention and Control, IWK Health
Scott Davies, Canada Research Chair and Professor, Department of Leadership, Higher and Adult Education, University of Toronto
Manny Figueiredo, Director of Education, Hamilton-Wentworth District School Board
Cindy Finn, Director General, Lester B. Pearson School Board
Andrew (Andy) Hargreaves, Visiting Professor, Faculty of Education (Change, Engagement, and Innovation in Education), University of Ottawa
Patricia McDougall, Associate Professor, Department of Psychology and Health Studies, University of Saskatchewan
Lauren McNamara, Research Scientist, Education and Social Change; Director, The Recess Project, Diversity Institute, Ryerson University
Peter Szatmari, Patsy and Jamie Anderson Chair in Child and Youth Mental Health and Professor, Cundill Centre for Child and Youth Depression at Centre for Addiction and Mental Health, Hospital for Sick Children and University of Toronto
Charlotte Waddell, University Professor, Faculty of Health Science, Simon Fraser University
Joel Westheimer, University Research Chair and Professor, Faculty of Education, University of Ottawa
Jessica Whitley, Associate Professor, Faculty of Education, University of Ottawa
For further information or for media requests, contact Erika Kujawski at ekujawski@rsc-src.ca. 
 
Dr. Tracy Vaillancourt explains what we know about the effects of school closings on children during the pandemic on the Globe and Mail podcast, The Decibel. Listen here

This report has also been published in the FACETS collection of RSC Policy Briefings. The report is available here. 
Social Media Image: