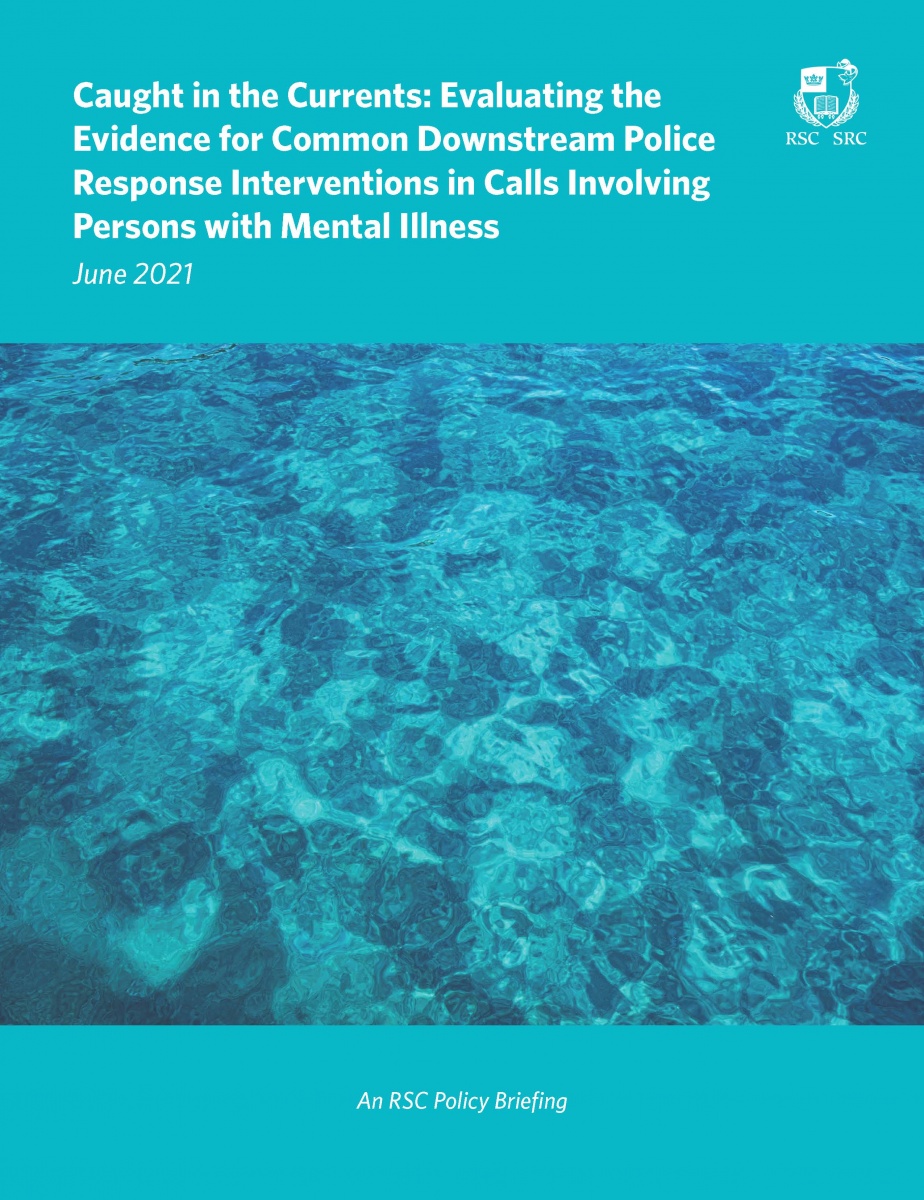 Established by the President of the Royal Society of Canada in April 2020, the RSC Task Force on COVID-19 was mandated to provide evidence-informed perspectives on major societal challenges in response to and recovery from COVID-19. 
The Task Force established a series of Working Groups to rapidly develop Policy Briefings, with the objective of supporting policy makers with evidence to inform their decisions. 
Overview of Caught in the Currents: Evaluating the Evidence for Common Downstream Police Response Interventions in Calls Involving Persons with Mental Illness
The origins of this report, and of the Royal Society of Canada's Mental Health and Policing Working Group, can be traced to the unique situation Canadians have faced as a result of the COVID-19 pandemic. The unique circumstances of this global outbreak, which have, for many Canadians, resulted in serious illness and death, intensified economic uncertainties, altered family and lifestyle dynamics, and generated or exacerbated feelings of loneliness and social dislocation, rightly led the Royal Society of Canada's COVID-19 Taskforce to consider the strains and other negative impacts on individual, group, and community mental health. With the central role that police too often play in the lives of individuals in mental and/or emotional crisis, we were tasked with exploring what can be reasonably said about the state of our current knowledge of police responses to PMIs.
Authors of the Report
Judith Andersen, Department of Psychology, University of Toronto
Craig Bennell, Forensic Psychology Research Centre, Carleton University
Mary Ann Campbell, Department of Psychology, University of New Brunswick
Laura Huey, Chair, Professor of Sociology, Western University
Jacek Koziarski, PhD Candidate, Department of Sociology, Western University
Adam D. Vaughan, Assistant Professor, School of Criminology & Criminal Justice, Texas State University
For further information or for media requests, contact Erika Kujawski at ekujawski@rsc-src.ca. 
 
This report has also been published in the FACETS collection of RSC Policy Briefings. The report is available here. 
Social Media Image: