4:00-6:30 pm, Thursday 21 of February 
Peter Wall Institute for Advanced Studies, UBC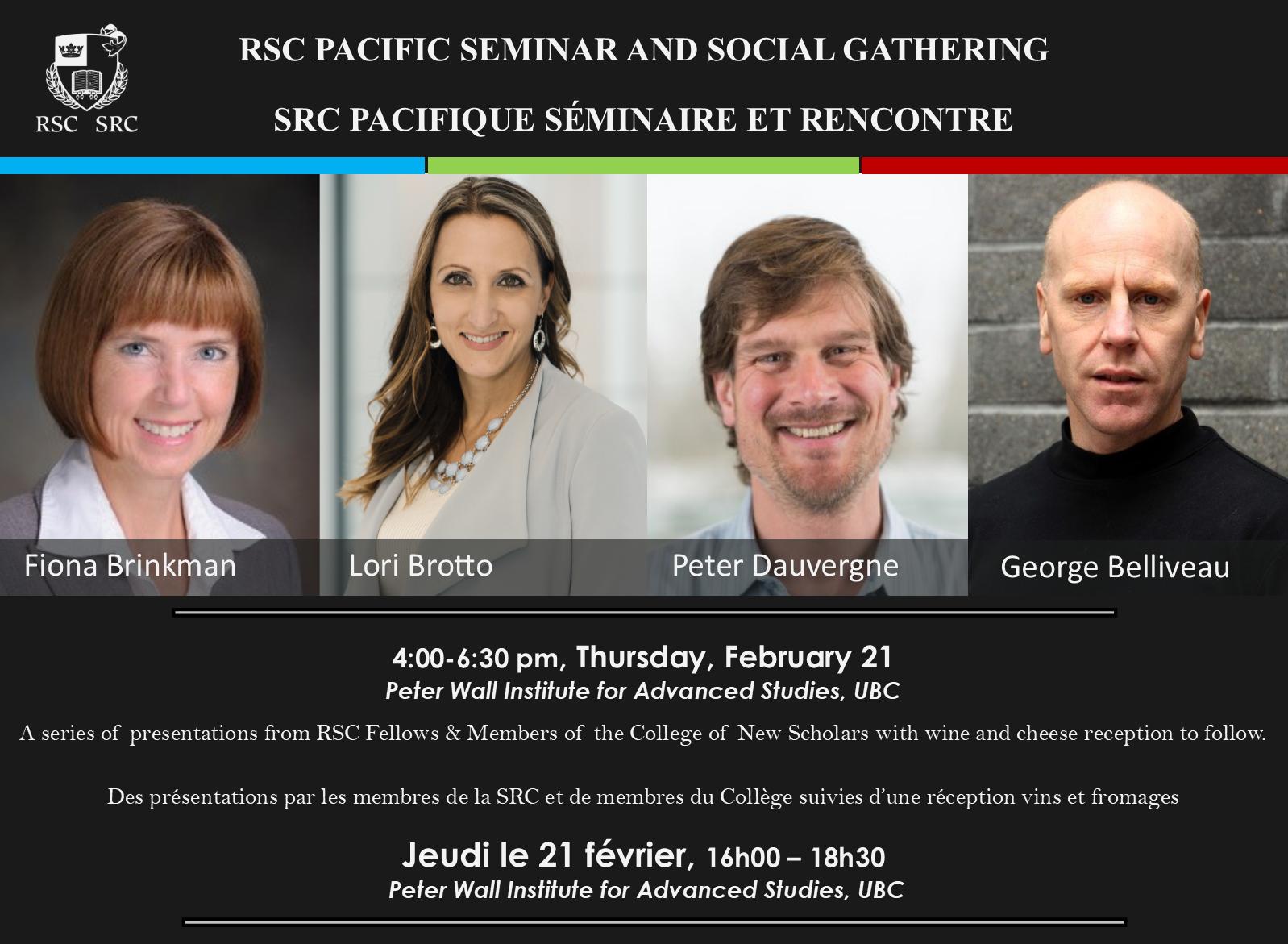 Fiona Brinkman: FRSC (SFU)
A professor in the Department of Molecular Biology and Biochemistry, Brinkman studies infectious disease outbreaks in people and the agri-foods industry. She will discuss how her work on DNA-based tracking of microbes, coupled with integrative analyses using environmental and social data, is offering new insights into the spread of diseases and new approaches to control them. 
Lori Brotto: College of New Scholars (UBC)
Clinical Psychologist and Professor in the UBC Department of Obstetrics and Gynaecology with a joint appointment in Psychiatry, Lori Brotto will discuss her research adapting and testing mindfulness-based interventions for various populations of women (and more recently men) with sexual difficulties. She will summarize the key outcomes of mindfulness, and speculate on why it is likely to be the most effective approach to treatment for sexual concerns. 
Peter Dauvergne: FRSC (UBC)
Political Scientist Peter Dauvergne will reflect on the most significant current trends that are going to shape global environmental politics over the next decade. 
George Belliveau: College of New Scholars (UBC)
Belliveau, a professor of Education, explores theatre as a form of knowledge exchange. Along with colleagues, he will share a staged reading of the research-based play Unload. When an actor asks his veteran friend to help him prepare to audition for the role of a solider, they embark on a soul-searching journey to address difficult memories. Drawing on his ability to overcome challenges in and out of uniform, the veteran must guide the actor through an unspoken grief that has been haunting him for decades. Filled with emotional truth and laughter, this play brings to life research on veterans and the lived experience of civilians carrying trauma.   
RSC Pacific - Graeme Wynn, Carole Gerson, Judith Hall, Pitman Potter, John Borrows, Christina Laffin, Philippe Tortell.