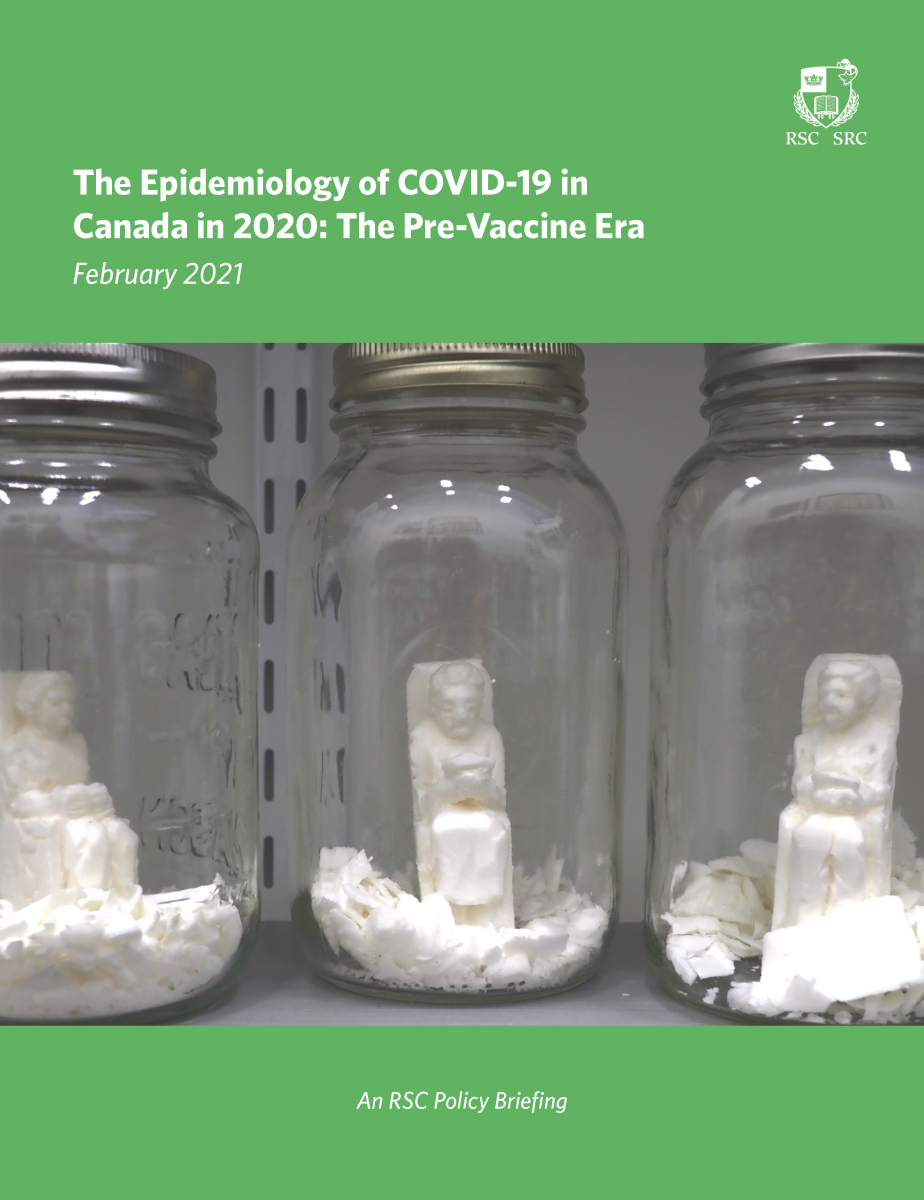 Established by the President of the Royal Society of Canada in April 2020, the RSC Task Force on COVID-19 was mandated to provide evidence-informed perspectives on major societal challenges in response to and recovery from COVID-19. 
The Task Force established a series of Working Groups to rapidly develop Policy Briefings, with the objective of supporting policy makers with evidence to inform their decisions. 
Overview of The Epidemiology of COVID-19 in Canada in 2020: The Pre-Vaccine Era
A novel coronavirus, now known as severe acute respiratory syndrome coronavirus 2 (SARSCoV-2), was first identified in Wuhan, China in late December 2019. Coronavirus disease 2019 (COVID-19), caused by SARS-CoV-2, predominantly manifests as pneumonia, however, COVID-19 can also present with an array of extrapulmonary signs and symptoms.(1) In this document we will describe the epidemiology—the study of disease incidence, distribution and control—of COVID-19 in Canada as of late 2020. We will explore the timeline, distribution and determinants of SARS-CoV-2 transmission within Canada as well as describe Canada's public health response to COVID-19 within various sectors and populations including Canadian workplaces; healthcare settings including long-term care; and school settings. Our current understanding of the epidemiology of COVID-19 continues to evolve, and this summary, written in late 2020, prior to availability of vaccines for COVID-19 prevention, reflects information available as of November 30, 2020. It should be acknowledged that the epidemiology will continue to evolve over the weeks and months that follow.
Authors of the Report
Robyn A. Harrison, Clinical Professor at the University of Alberta and Provincial Communicable Disease Consultant with Alberta Health Services
Jennie Johnstone, Associate Professor, Laboratory Medicine and Pathobiology, University of Toronto and Medical Director of Infection Prevention and Control, Sinai Health
Lynora Saxinger, co-Chair of the Alberta COVID-19 Scientific Advisory Group and Associate Professor of Medicine at the University of Alberta
Wendy Sligl (Chair), Professor, Department of Critical Care Medicine and Division of Infectious Diseases in the Department of Medicine at the University of Alberta
David Waldner, Clinical Lecturer, Division of Infectious Diseases, Department of Medicine at the University of Alberta
Duncan Webster, Medical Microbiologist at the Saint John Regional Hospital and Associate Professor of Medicine at Dalhousie University
For further information or for media requests, contact Erika Kujawski at ekujawski@rsc-src.ca.
This report has also been published in the FACETS collection of RSC Policy Briefings. The report is available here. 
Social Media Image: