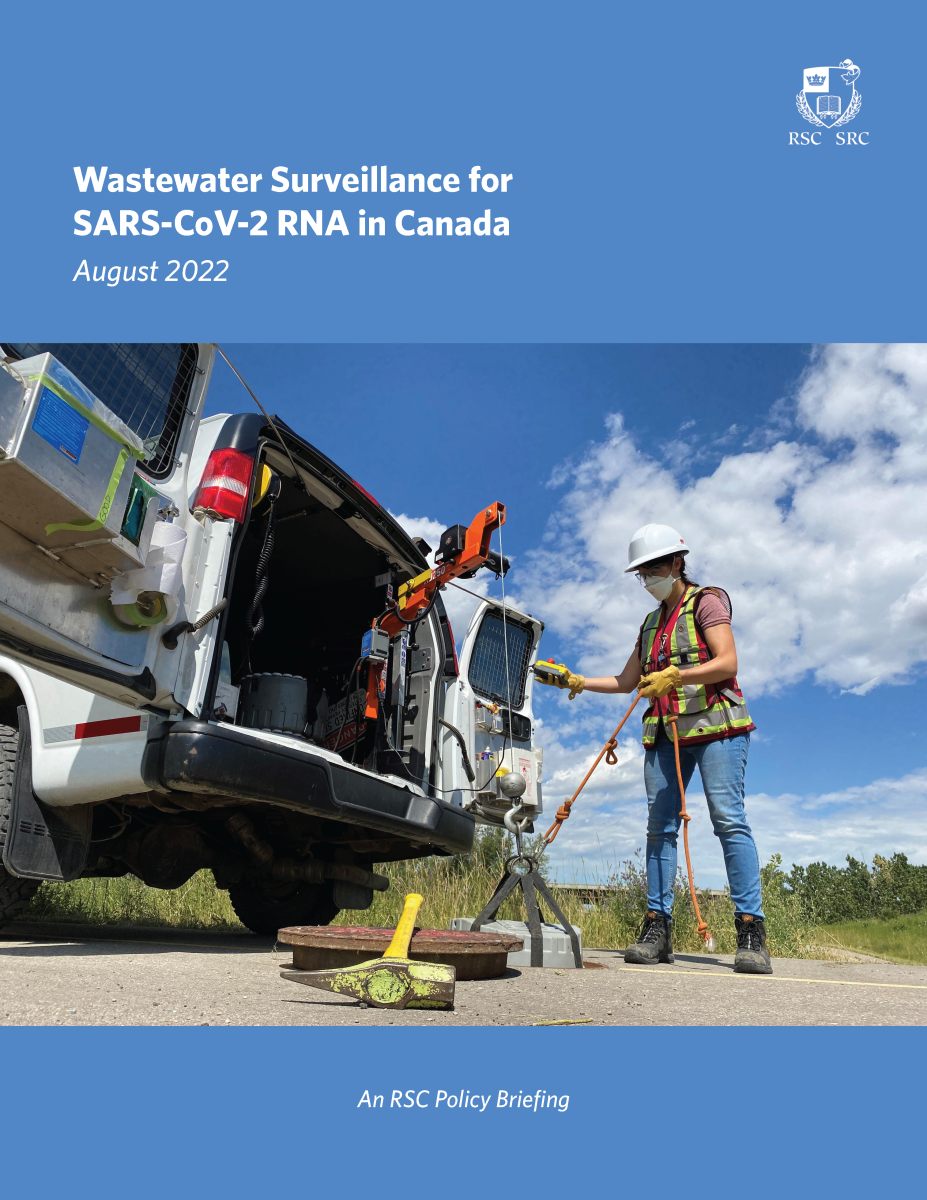 Established by the President of the Royal Society of Canada in April 2020, the RSC Task Force on COVID-19 was mandated to provide evidence-informed perspectives on major societal challenges in response to and recovery from COVID-19. 
The Task Force established a series of Working Groups to rapidly develop Policy Briefings, with the objective of supporting policy makers with evidence to inform their decisions. 
Overview of "Wastewater Surveillance for SARS-CoV-2 RNA in Canada"
Wastewater surveillance for SARS-CoV-2 RNA, which was rapidly implemented in 2020, is a recent and noteworthy adaptation of public health surveillance of wastewater for infectious and other harmful agents – a technique practiced for decades. Wastewater surveillance for SARS-CoV-2 RNA uses the same polymerase chain reaction (PCR) technology as clinical tests for the presence of the virus. Shortly after identification of the causative agent, individuals with COVID-19 were found to shed SARS-CoV-2 in their faeces. As the World Health Organization (WHO) was declaring a global pandemic in March 2020, researchers in several locations around the world rapidly confirmed that RNA fragments specific to SARS-CoV-2 could be detected in community wastewater.
Authors of the Report
Steve E. Hrudey, PhD, DSc(Eng) (Panel Chair), Professor Emeritus, Analytical & Environmental Toxicology, Faculty of Medicine & Dentistry, University of Alberta
Heather N. Bischel, PhD, Assistant Professor, Department of Civil & Environmental Engineering, University of California, Davis
Jeff Charrois, PhD, Senior Manager, Analytical Operations and Process Development Teams, EPCOR Water Services Inc.
Alex H. S. Chik, PhD, Project Manager, Wastewater Surveillance Initiative, Ontario Clean Water Agency
Bernadette Conant, MSc, Past Chief Executive Officer, Canadian Water Network
Rob Delatolla, PhD, Professor, Civil Engineering, University of Ottawa
Sarah Dorner, PhD, Professor, Civil, Geological & Mining Engineering, Polytechnique Montréal
Tyson Graber, PhD, Associate Scientist, Children's Hospital of Eastern Ontario Research Institute
Casey Hubert, PhD, Professor, Campus Alberta Innovates Program Chair in Geomicrobiology, Department of Biological Sciences, University of Calgary
Judy Isaac-Renton, PhD, Professor Emerita, Dept. Pathology and Laboratory Medicine, Faculty of Medicine, University of British Columbia
Wendy Pons, PhD, Professor, Bachelor of Environmental Health Program Conestoga College Institute of Technology and Advanced Learning
Hannah Safford, PhD, Associate Director of Science Policy, Federation of American Scientists
Mark Servos, PhD, Professor & Canada Research Chair, Department of Biology, University of Waterloo
Christopher Sikora, MD, Medical Officer of Health, Edmonton Region, Alberta Health Services
For further information or for media requests, contact Nicolas Lafrenière at nlafreniere@rsc-src.ca. 
This report has also been published in the 
FACETS collection
 of RSC Policy Briefings. The report is available 
here
. 
Social Media Image: