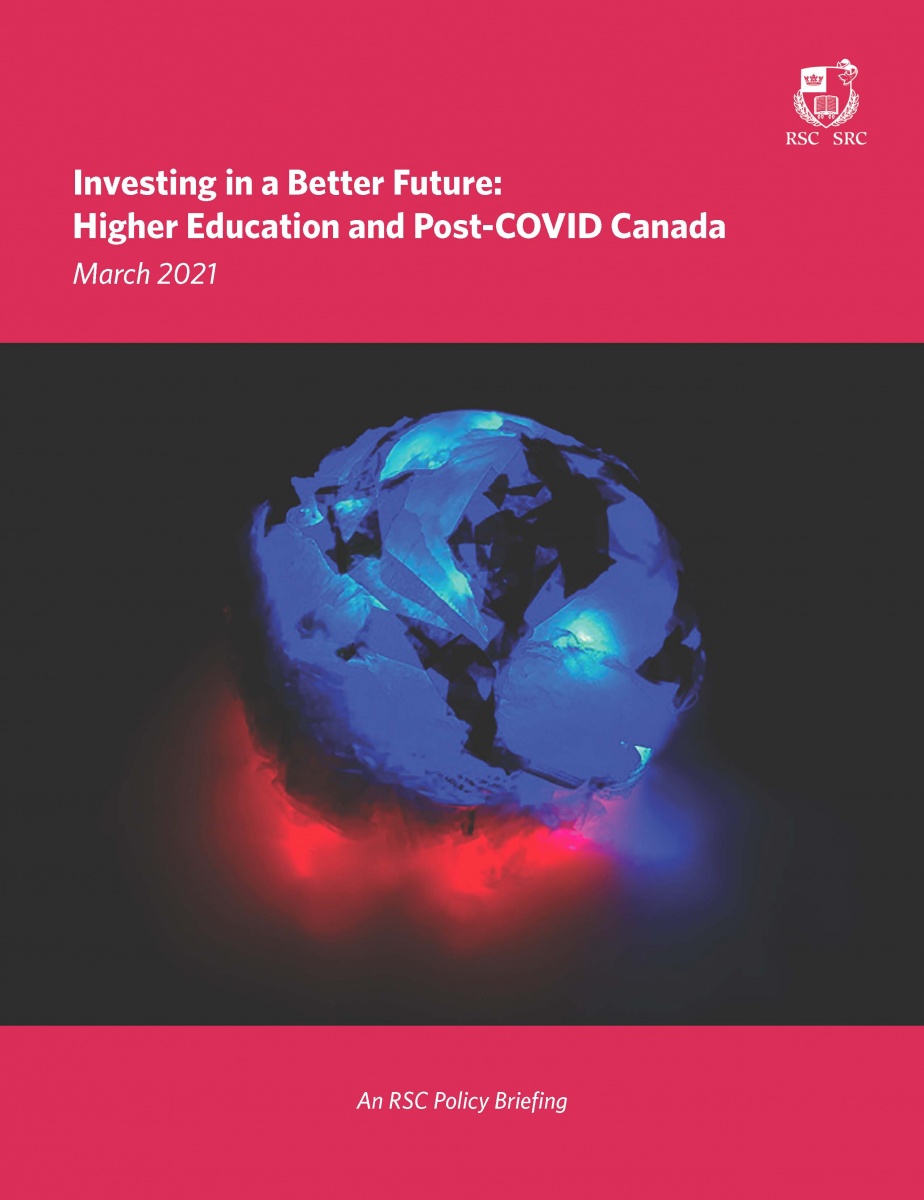 Established by the President of the Royal Society of Canada in April 2020, the RSC Task Force on COVID-19 was mandated to provide evidence-informed perspectives on major societal challenges in response to and recovery from COVID-19. 
The Task Force established a series of Working Groups to rapidly develop Policy Briefings, with the objective of supporting policy makers with evidence to inform their decisions. 
Overview of Investing in a Better Future: Higher Education and Post-COVID Canada
During the COVID-19 pandemic, despite all of the disruptions the pandemic has caused, PSE has maintained educational programs, contributed research to the pandemic response and other critical areas, and provided experts for myriad science tables, task forces, and committees key to public health and government decision-making. While we applaud the hard work and commitment of faculty, staff, and students, we must also recognize that the pandemic effort has stretched already strained PSE resources and people even further. The cost of this cannot be ignored. It is critical to support PSE's recovery so that it can continue to support Canada's pandemic recovery, maintain Canada's global position in research and international education, and continue to advance national interests in vital areas such as climate change, reconciliation, and information literacy.
Authors of the Report
Jennifer Brennan, Head, Canada Programs, Mastercard Foundation
Frank Deer, Associate Professor, Canada Research Chair in Indigenous Education, Faculty of Education, University of Manitoba
Roopa Desai Trilokekar, Associate Professor, Faculty of Education, York University
Leonard Findlay, FRSC, Professor Emeritus, Department of English, University of Saskatchewan
Karen Foster, Associate Professor, Canada Research Chair in Sustainable Rural Futures for Atlantic Canada, Department of Sociology and Social Anthropology, Dalhousie University
Guy Laforest, FRSC, directeur général de l'École nationale d'administration publique
Julia M. Wright (Chair), FRSC, Professor, George Munro Chair in English Literature and Rhetoric, and University Research Professor, Department of English, Dalhousie University
Leesa Wheelahan, Professor, William G. Davis Chair in Community College Leadership at the Ontario Institute for Studies in Education, University of Toronto
For further information or for media requests, contact Erika Kujawski at ekujawski@rsc-src.ca. 
This report has also been published in the FACETS collection of RSC Policy Briefings. The report is available here. 
Social Media Image: