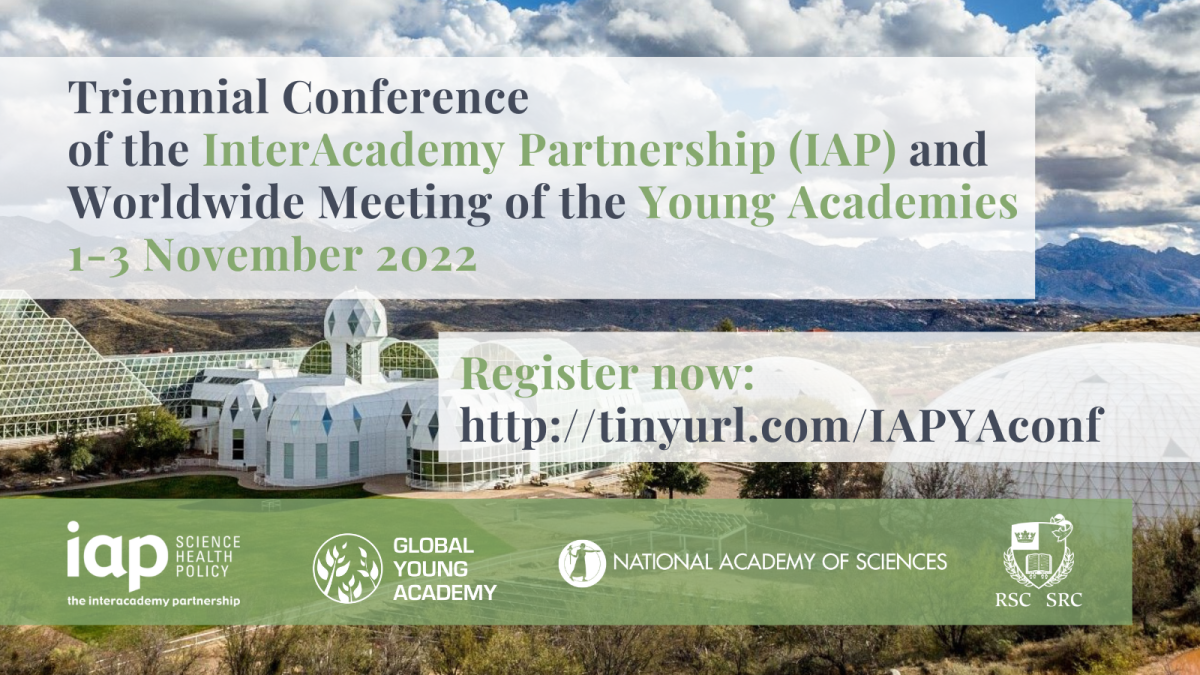 OTTAWA -- The Triennial Conference of the InterAcademy Partnership (IAP) and the Worldwide Meeting of Young Academies will take place from Nov. 1 to 3, 2022, both online and at the University of Arizona's Biosphere 2.

The InterAcademy Partnership (IAP) includes more than 140 national, regional, and global member academies who work together to support the vital role of science in seeking evidence-based solutions to the world's most challenging problems. The Worldwide Meeting of Young Academies gathers early-career scientists, engineers, and medical professionals from more than 50 young academies around the world. This year marks the first time that the two groups are holding their meetings jointly.

The hybrid conference will explore the theme "Inclusive Excellence: Harnessing Knowledge for Sustainable Societies."  The concept of inclusive excellence recognizes that the well-being of communities, particularly when facing major challenges, depends on valuing and engaging the rich diversity of all community members. Guided by that theme, the conference will gather delegates from over 100 countries to consider how research can address global challenges, how current research structures and processes exclude valuable voices and knowledge systems, and how to make these structures and processes more equitable and sustainable.

"In the Global Young Academy, we consider inclusive excellence and diversity to be critical for the success of early-career researchers, as well as for science in general to be more creative and innovative for defining pathways towards sustainable societies," stated Priscilla Kolibea Mante and Prosper Ngabonziza, co-chairs of the Global Young Academy.  "As a young academy and one of the co-organisers of the meetings, we are particularly pleased that this time, established science academies and young academies from all over the world will discuss these issues together and develop joint actions for the future."

Sessions at the conference will examine topics such as climate justice, inclusiveness in open access publishing models, and lessons on innovation that can be taken from the COVID-19 pandemic, among many others. 

"The triennial conference will bring together all of our member academies worldwide, with the goal of exploring how the international scientific community can respond to the major global challenges in a collaborative and inclusive way, and it will greatly benefit from the input from the early-career scientific community with the participation of the young academies," said IAP co-presidents Richard Catlow and Depei Liu. 

The conference will be co-hosted by the U.S. National Academy of Sciences (NAS) and the Royal Society of Canada (RSC), and is co-organized by IAP, the Global Young Academy, the U.S. National Academies of Sciences, Engineering, and Medicine, the RSC College, and the U.S. National Academies' New Voices Program. 

Reporters can view the preliminary program and register to attend online; those who wish to attend the conference in person should contact the U.S. National Academies' Office of News and Public Information at tel. 202-334-2138 or e-mail news@nas.edu.

For More Information: Erika Kujawski, Manager, Communications, The Royal Society of Canada, 613-816-4967, ekujawski@rsc-src.ca; @RSCTheAcademies
Social Media Image: