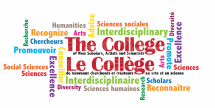 OTTAWA, Sept. 13 / Marketwired / The RSC has named the incoming 80 members of The College of New Scholars, Artists and Scientists. Those named to the College represent the emerging generation of scholarly, scientific and artistic leadership in Canada.
Together, the members of the College will address issues of particular concern to new scholars, artists and scientists, for the advancement of understanding and the benefit of society, taking advantage of the interdisciplinary approaches fostered by the establishment of the College.
"This year's members join the College at an exciting time as a number of College supported projects are launching and looking for participants to strengthen the teams with various expertise and perspectives" said College President Alidad Amirfazli.
The Presentation of this cohort, sponsored by Concordia University, will take place on Friday, November 18, 2016 at the Four Points by Sheraton in Kingston, Ontario. To register for this event, please click here.
A complete list of the 2016 cohort of the College and their citations is available here.
Founded in 1882, the Royal Society of Canada (RSC) comprises the Academies of Arts, Humanities and Sciences; in addition to Canada's first national system of multidisciplinary recognition for the emerging generation of Canadian intellectual leadership, The College of New Scholars, Artists and Scientists. Its mission is to recognize scholarly, research and artistic excellence, to advise governments and organizations, and to promote a culture of knowledge and innovation in Canada and with other national academies around the world.
- 30-
FOR FURTHER INFORMATION:
Erika Kujawski, Manager, Communications & Publications, The Royal Society of Canada, (613) 991-5642, communications@rsc-src.ca; www.rsc-src.ca; @RSCTheAcademies